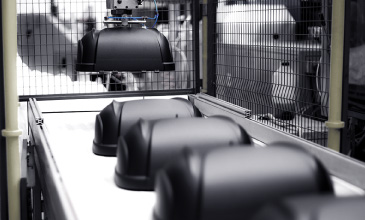 PLANT CAPABILITIES
SPA integrates a high level of automation into all stages of its injection moulding activities. Upstream this includes the automated management of material sent to machines in the mould shop.
Automated machines equipped with Cartesian robot technologies melt the plastic, inject it into a mould where, after cooling and hardening into the desired shape, it is separated from any waste material and placed on a conveyor belt for automatic packing. The packing process is also controlled by robot technology.
The company's high level of automation guarantees highest product quality, efficient and effective production control and, consequently, competitive prices and rapid response times.
All temperatures used in the moulding process are subject to rigorous control in order to eliminate the risk of noxious fumes.
Machinery is equipped with dedicated granulators for in situ waste recycling where foreseen by project specifications to limit environmental impact. All waste wherever possible is immediately re-cycled in-house; in rare cases where this is not possible, non usable plastic waste is sent to legally recognised industrial waste processing firms.